Professor Kore Liow, MD awarded 2021 University of Hawaii John Burns School of Medicine John M. Hardman, M.D. Award for Mentoring in Teaching
The University of Hawaii John M. Hardman, M.D. Award for Mentoring in Teaching is presented to a professor who best emulates Dr. Hardman's passion, grace, and devotion to foster the intellectual, professional and personal growth of his beloved students throughout their training. 
About the award & Dr. Hardman's Legacy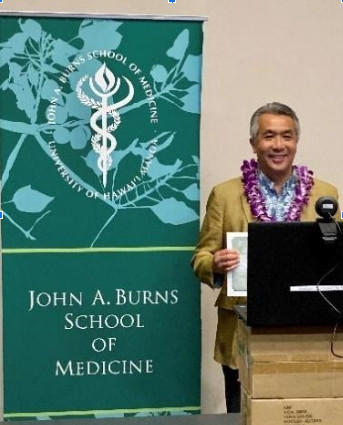 Kore Kai Liow, MD, FAAN, FACP
Clinical Professor, Dept. of Medicine (Neurology)
Graduate Faculty, Clinical & Translational Research,
Dept. Quantitative Health Sciences
University of Hawai`i John Burns School of Medicine
Director & Principal Investigator,
Hawaii Pacific Neuroscience 
(Picture: Dr. Liow receiving award and acknowledging the contribution of all his neuroscience Clinical & Research Faculty and Staff)
Dr. Liow wish to acknowledge the contribution of 2 neurologists:
Jason Viereck, MD, PhD, academic director of BRITL (Brain Research, Innovation and Translation Lab), Clinical Assistant Professor of Med (Neurology), who mentored over 25 medical students this year and Enrique Carrazana, MD, Clinical Educator, Dept. of Med (Neurology) who successfully assisted students  with over 10 national publications & presentations this year.
(Picture: Neurology faculty with graduating medical students who matched into neurology, neurosurgery or psychiatry)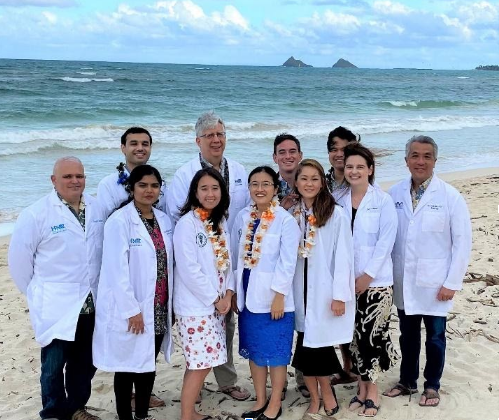 Hawaii Pacific Neuroscience (HPN) serve as the largest active neurology and neuroscience teaching program in Hawaii attracting over 40 fellows, residents, medical students, post doctorate and graduate practicums students from the University of Hawaii, Tripler Army Medical Center, Hawaii Pacific University, Hawaii School of Professional Psychology and Chaminade University every year who comes here for their educational rotations ranging from a month to the entire year. In addition, it also serve as a research site for both undergraduate and graduate students involved in various neuroscience research projects.
Research Opportunities and Internship