"The most important lesson that I was able to pick up through this program is the importance of closeness and collaboration with your team. In the clinic, I observed the close interactions of all the members of the Hawaii Pacific Neuroscience team, and the respect and kindness that is exchanged between all of these members."
"My biggest takeaway from this year's summer internship is learning how to be a better leader. ... My group got the work done, we even finished slightly ahead of schedule. They had fun working with me and I had fun working with them. Learning how to be a good and effective leader is a skill that I will always carry with me."
"This internship has taught me many valuable skills about teamwork, and has shown me aside to neuroscience research and treating patients that I have never been exposed to before."
"Submersing myself in this environment has equipped me with a broader knowledge about neuroscience, and has allowed me to interact with professionals of the expertise like, Dr. Carrazana... This internship has intimidated me, but in a good way... I feel as if things that are easy are not necessarily truly valued... "
"From other people around me, I also learn that it is crucial to keep a growth mindset to deal with all kind of challenges during the research."
"I think interning at HPN has helped me to become more confident in my choices. I was surprised at how open and essentially the trust, our PI as well as the doctors put in us"
"As a leader, I've realized that the majority of students is eager to "cure cancer", but very few want to start small. Perhaps, look into journals and find paucity in the literature, understand what one can do to add information to our current knowledge, and eventually, work their way up. This process takes all time, effort, and luck, not something that can be accomplished over a short period of time. HPN provides the perfect dojo for a student like me to practice and sharpen our skills."
"I was able to see my team improve their clinical research skills and expand their knowledge in neuroscience, and I was able to humbly grow alongside them. As time passed, I also noticed my confidence levels increase. I knew I understood the project, I knew I had the skillset necessary to conduct clinical research, and I came to believe that I could serve as a team leader. And because my team and I were able to grow together as well as struggle together, my team of highly qualified individuals eventually became individuals that I could call family... However, I believe the most beautiful aspect about being a clinical researcher is that everything we do is for our patients and to make a positive impact in the world around us..."
"Now, more than ever, I wish to do research in cognitive neuroscience, and I intend to do everything I can to get there. Though my time at Hawaii Pacific Neuroscience has come to an end, for now, I know even greater things await me ahead at Johns Hopkins University, where I have committed to studying neuroscience and cognitive science. In ten years' time, I will have obtained my Ph.D. and be conducting and leading research that will make an impact in this world."
"This summer's internship was extraordinarily fascinating. Amongst all the things that I had learnt at my time there, I have to say that my biggest takeaway is that under every well-maintained clinic there is a veritable army of people working to keep it going. It seemed surreal that a relatively small location could contain so much energy and experience... Furthermore, at HPN, I found myself working more with others under a common goal... Seeing how the clinic worked as a whole to help those with neurological problems whilst supporting research into said problems was a real eye-opening experience."
Catherine Mitchell
Clinical Research Coordinator
SIP Coordinator
HPN Summer Internship Program (HPN-SIP)
Hawaii Pacific Neuroscience offers the largest neuroscience teaching facility in the state of Hawaii. Our mission is to give back, mentor and nurture the future of our Hawaii healthcare leaders. Since 2009, over 295 students have gained valuable experience through our program. The 2020 SIP cohort included 35 students from the high school to the graduate school level. In our 8-week intensive program, interns have the opportunity to interact directly with our multidisciplinary team of doctors and to experience working in a clinic setting. Additionally, interns choose a therapeutic area to research for the duration of their program and present their research in a Summer Symposium at the end of the program.
Applications for the 2021 program are now available. Please reference the application below and submit no later than 30 APR 2021. The expected 2021 cohort will be 35 students. Applications are accepted on a rolling-basis and will be closed when the cohort is filled. For further inquiries, please email Catherine Mitchell at cmitchell@hawaiineuroscience.com.
Having Problems Downloading? email us at info@hawaiineuroscience.com
Please click on the button below to submit the
application fee.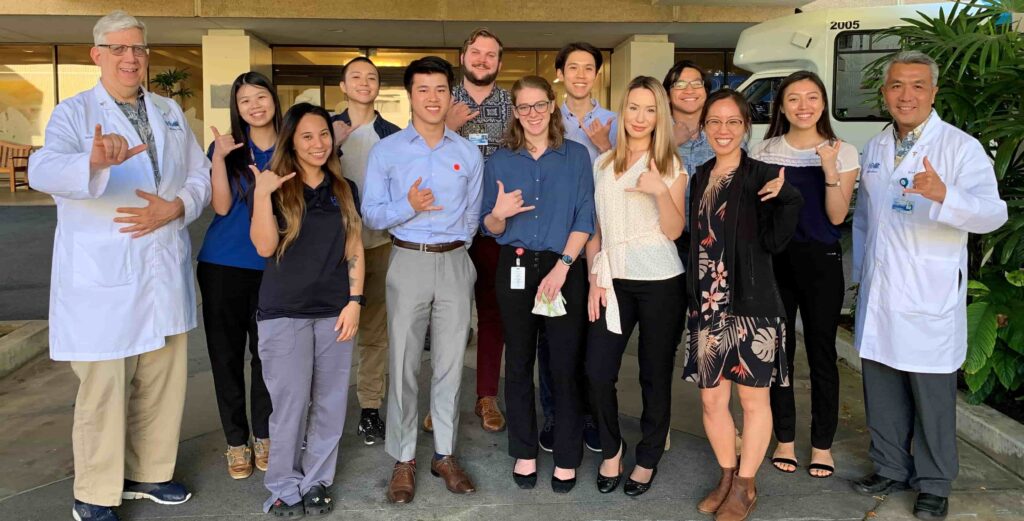 Our HPN-SIP 2019 cohort presented their midterm findings to an audience of community physicians at Adventist Castle Medical Center. The physicians had the opportunity to ask clarifying questions and provide valuable insight for the research presented. Great work students!
HPN support 4th of July Freedom Run/Walk
2018 August Hawaii Neuro Research Summer Internship Graduation