Center for Neuroscience Diversity
Improving Neuroscience Care & Access Meeting Unmet Needs in Hawaii & Pacific Regions
Aloha Friends,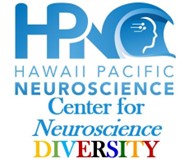 According to NIH NIMHD (National Institute on Minority Health & Health Disparities), one of America's greatest challenges is reducing the profound disparity in health status of its racial and ethnic minority, rural, low-income, and other underserved populations.   Hawaii can play an important role in reducing the disparity in care for minority groups as defined by NIH National Institute on Minority Health & Health Disparities (NIMHD) with its:
Asian Americans (7% of US & over 40% of Hawaii's population) 
Native Hawaiians and Pacific islanders (NHPI) (25% of Hawaii's population)
Underserved rural population (94% Hawaii's landmass)
According to FDA Clinical Trial Diversity site "people from racial and ethnic minority and other diverse groups are underrepresented in clinical research. This is a concern because people of different ages, races, and ethnicities may react differently to certain medical products."   Take for example a drug like Lecanemab that was approved by FDA in 2023 based on the CLARITY data, out of the 1795 participants, only 1 subject was NHPI from our Memory Disorder Ctr. 
It is therefore our goal and our "kuliana" to not only take interest, but to engaged, promote,  inspire, mentor and invest in the next generations of clinicians and scientists, residents and students in promoting research in underserved minority populations especially NHPI & lowering the barriers to access to care and representation in clinical trials.   We are particularly excited to partner with the Dept. Native Hawaiian Health to collaborate "laulima" together,  
Aloha,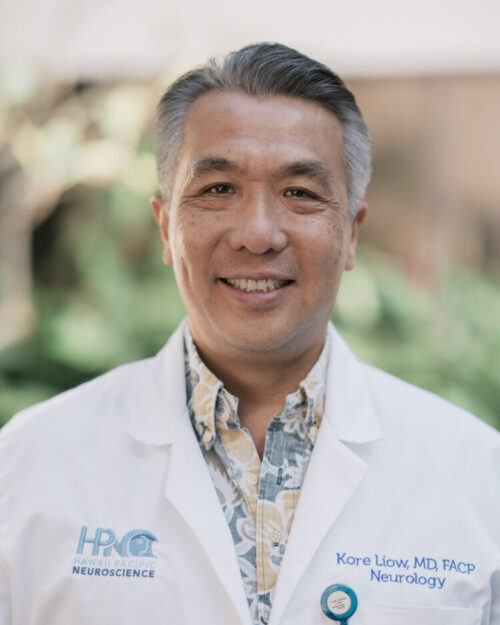 Kore Kai Liow, MD, FACP, FAAN
Director, Neuroscience Diversity Center
Principal Investigator, Clinical Research Center
Hawaii Pacific Neuroscience
Clinical Professor of Medicine (Neurology),
Graduate Faculty, Clinical & Translational Research
University of Hawaii John Burns School of Medicine
Department of Native Hawaiian Health
Welina me ke aloha,
Native Hawaiians and Pacific Islanders are at an increased risk for many neurological disorders, such as stroke, head and spinal cord injuries, and Alzheimer's disease and related dementias (ADRD), compared to non-Hispanic Whites and other racial and ethnic groups. They are also diagnosed with these conditions at considerably younger ages. For some neurological disorders, such as stroke and ADRD, their higher risk is attributed to the high prevalence of cardiometabolic and vascular risk factors, such as diabetes, hypertension, obesity, and dyslipidemia. And, there are also behavioral factors, such as substance use, interpersonal violence, and not using a seatbelt – factors that can lead to head and spinal cord injuries.
If we go "upstream," we will find that the risk factors for many neurological disorders are associated with socioeconomic factors, such as financial hardship, food insecurity, and stressors associated with economic deprivation. There are sociocultural and psychosocial factors, such as racism, acculturation-related stressors, and social isolation. Many of these socioeconomic and psychosocial factors are associated with obesity, diabetes, and hypertension in Native Hawaiians and Pacific Islanders. Neighborhood factors can also affect their risk for neurological conditions. Exposure to environmental toxins can lead to Parkinson's disease and ADRD. Native Hawaiians and Pacific Islanders are more likely to live in areas where they are exposed to environmental toxins. These "upstream" factors are the social determinants of health – the conditions under which people are born, grow, learn, live, work, and age that impact their morbidity and mortality. 
Despite all this, there remains a dearth of research on Native Hawaiians and Pacific Islanders regarding neurological disorders. The research being conducted by the clinician-scientists, and the students and residents they mentor, at the Center for Neuroscience Diversity are filling the important gaps in our clinical and scientific understanding of neurological-related disparities and their risk and protective factors as exemplified in the collection of research here. They are building the next generation of clinician-scientists who can help advance health equity for Native Hawaiians and Pacific Islanders.
Kihe, mauli ola!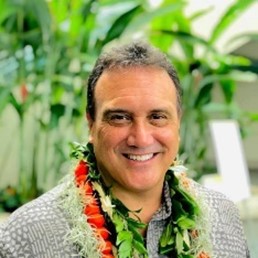 Keaweʻaimoku Kaholokula, PhD
Professor and Chair of Native Hawaiian Health
Multiple Principal Investigator,
Center for Pacific Innovations, Knowledge, and Opportunities
John A. Burns School of Medicine
University of Hawai'i at Mānoa