Hawaii Pacific Neuroscience Clinical Research Center (CRC) proven model, and combined years of experience affords us the ability to provide Hawaii patients with groundbreaking new neuroscience treatment options.
Our staff includes 8 fulltime Investigators, 5 dedicated full-time research staff and over 10 administrative support staff with Regulatory, Quality Assurance, Business Development, Recruitment Specialists. CRC has an active database of over 20,000 subjects and growing. Principal Investigator Kore Liow, MD, an NIH trained research neurologist has served as PI for over 20 years for more than 100 phase I through IV neuroscience clinical trials funded by NIH, CDC, and the industry and published over 40 peer-reviewed scientific neuroscience articles.
Focus on Reducing Health Disparities in US Minority Populations
According to
NIH NIMHD (National Institute on Minority Health & Health Disparities)
, one of America's greatest challenges is reducing the profound disparity in health status of its racial and ethnic minority, rural, low-income, and other underserved populations. Hawaii is one of the most diverse state and home to several NIMHD designated US health disparity populations including:
Asian Americans (40% of Hawaii's Population)
Native Hawaiians and other Pacific Islanders
Socioeconomically disadvantaged populations
Underserved Rural populations (94% of Total Land area housing 8% of population in Hawaii)
Clinical Research Center at Hawaii Pacific Neuroscience goal is to contribute to NIH NIMHD's goals of "enhancing the scientific knowledge base and designing interventions to improve health outcomes to reduce and ultimately lead to the elimination of health disparities' by ensuring that clinical trials include racial and ethnic diversity including minority groups that constitute substantial and growing proportions of the US population. For example,according to the 2010 US census , 6% of those identified themselves as Asian. It is important for clinical trial populations to reflect the targeted patient population. Our trial subjects at Clinical Research Center strive to represent the trial populations that are an important facet of clinical trial designs and positively contribute to the scientifically rigorous evaluation of therapies being investigated to ensure that the safety and efficacy profile of a treatment is accurate.
Hawaii Pacific Neuroscience is committed to improving health care access, reducing health disparities especially for minorities and those underserved in our state and proud to be working with organizations to serve these populations. Further information, contact Principal Investigator Kore Kai Liow, MD, kliow@HawaiiNeuroscience.com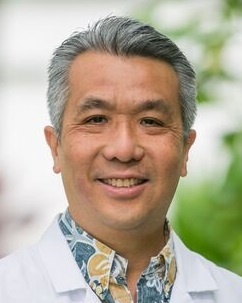 Dr. Kore Kai Liow is a board-certified neurologist with over 20 years of clinical research experience. He has personally served as the PI for over 100 Phase I-IV neuroscience clinical trials. His research has been published in over 40 peer-reviewed publications and has received the "Honolulu Top Doctors" award in 2015, 2016 and 2017.
Regulatory & Start Up Department
Our CRC Regulatory Specialists process the start-up paperwork with a turn-around time of less than one week and work diligently to maintain all regulatory documents throughout the study.
Clinical Research Department
Our CRC Coordinators and Assistants are the backbone of the department. They work directly under the PI and manage the day-to-day logistics of the clinical trials. The team leaders have extensive research experience and provide oversight with the PI to ensure the proper management of multiple trials.
Our CRC licensed pharmacy technician provides oversight and direction of the pharmacy department to keep track of all IP involved including receiving, inventory, tracking, dispense, drug distribution and providing technical assistance with clinical protocol including coordinating, collaborating and providing expertise in support of the clinical trials as well improving patient experience in education of AEs.
Recruitment & Business Development
Our CRC Recruitment and Business Development Team work closely with the PI and Study Coordinators to pursue all avenues of patient recruitment, which leads to our study site frequently exceeding the enrollment standards set by our study sponsors.
Phase One to Four and IV Capable
Alzheimer's Research Unit
Parkinson's Research Unit
MS & Neuroimmunology Research Unit
Sleep & insomnia Research Unit
Headache & Migraine Research Unit
Neuromodulation Research Unit
Recent Products Investigated at Clinical Research Center,
Approved by FDA and Launched in US.
Recent Achievements (2017-2018)