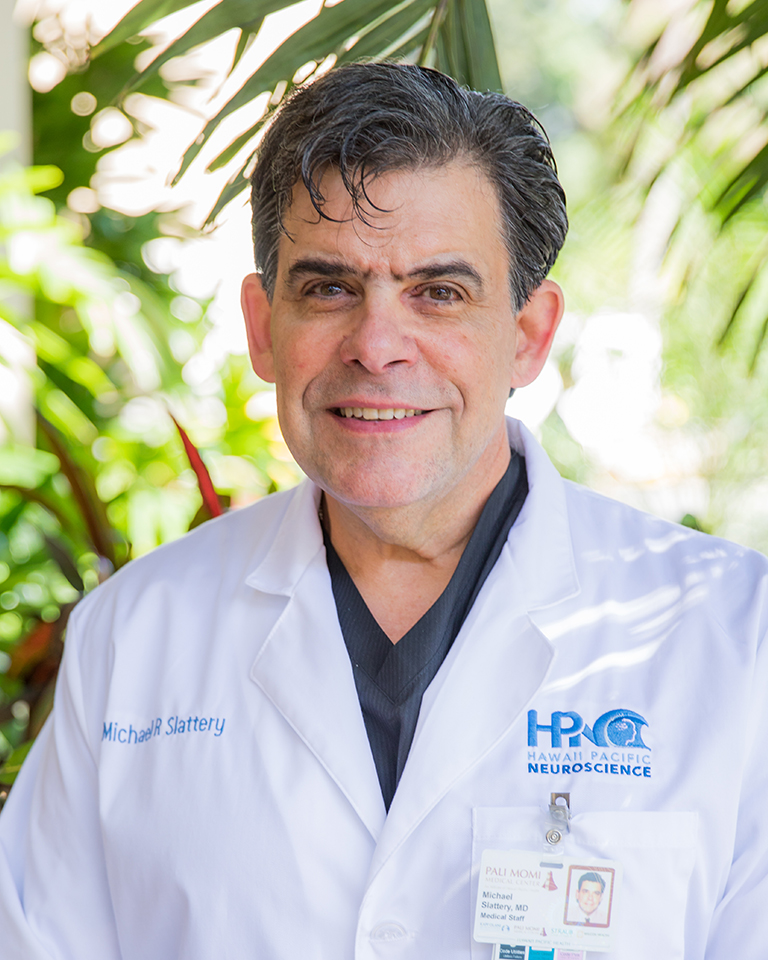 Neurology

Neurophysiologist, Sleep Medicine Specialist, Assistant Clinical Professor of Medicine
BS Neurobiology and Behavior with Honors & Distinction, Cornell University,
Ithaca N.Y.
M.D. Tufts University School of Medicine, Boston, MA
Internship – General Surgery, Emory University Affiliated Hospitals, Atlanta, GA
Research Fellow – Neuroanatomy, Yerkes Primate Research Center, Atlanta, GA
Internship – Internal Medicine/Psychiatry Residency – Tufts Affiliated Hospitals
Residency – Psychiatry – Tufts New England Medical Center
Residency – Neurology – Tufts New England Medical Center
Fellowship – EEG/Epilepsy and Sleep Disorders/Polysomnography – Beth Israel Hospital / Harvard Medical School
Dr. Michael Slattery has an extensive and impressive history of education spanning many disciplines within the field of Neuroscience and has been practicing medicine for over 35 years.  The Hawaiian community is blessed to have a person of such caliber administering care and Hawaii Pacific Neuroscience is able to offer an extensive line of services because of people like him.
Dr. Slattery has conducted numerous Lectures, Continuing Medical Education Seminars, is a contributing author for textbooks, he has written several papers and abstracts that can be found in prestigious medical journals like Science, and Visual Neuroscience.
Dr. Slattery has a passion for Sleep Medicine and enjoys working with patients to help them find balance in their sleeping experience.  He has been a founder of numerous sleep centers and has initiated and developed multiple offices and is no stranger to the business of sleep.  Dr. Slattery is a key player in the accreditation process for Hawaii Pacific Neuroscience as a result we are able to offer nationally certified top-notch facilities to care for all our patient's sleep hygiene needs because of his tireless efforts.
When Dr. Slattery is not doing medicine, he enjoys spending time with his family and playing the saxophone/music, equestrian sports, kayaking, bicycling and hiking as a favorite pastime.